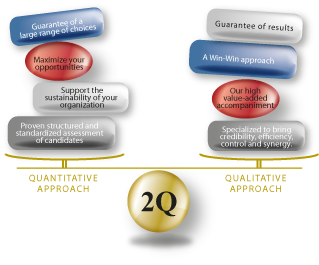 A quantitative approach which guarantees a large range of choices - a real choice - to maximize your opportunities and to support the sustainability of your organization offering the guarantees of a proven structured and standardized assessment of candidates and the leverage of technology to support the quantitative approach. This means also a result oriented organization with a capacity to speed-up to the market without lowering the quality.
A qualitative approach which guarantees results and loyalty in a Win-Win approach for our customers: CLIENTS and CANDIDATES throughout our high value-added accompaniment. Qualitative means also more specialized to bring credibility, efficiency, control and synergy.
The balance between the 2 approaches will be a guarantee of success.