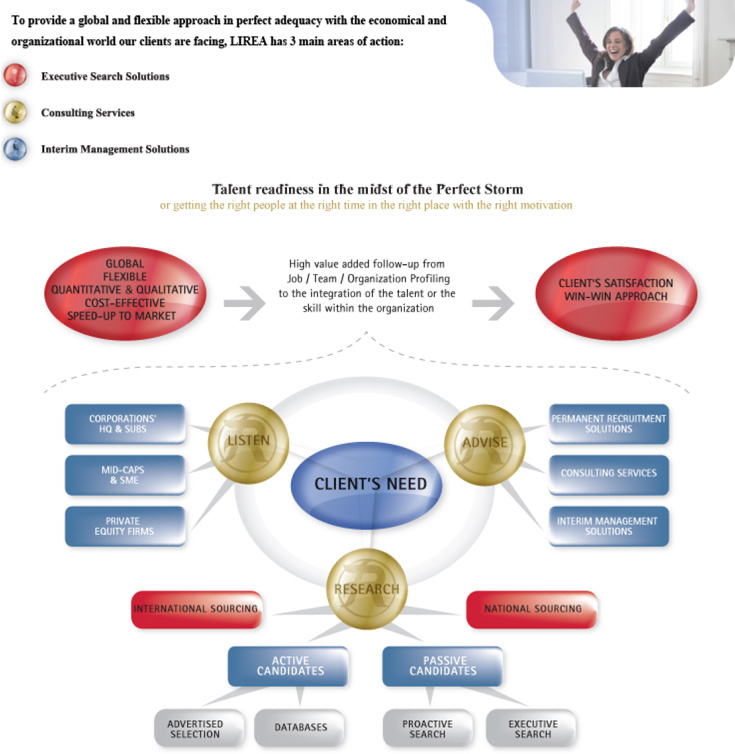 Working with LIREA gets you, Dear Client, the benefits of a large firm with the personalized and flexible touch of a boutique.
As a guarantee of success and cost effectiveness our approach is:
FLEXIBLE
By offering multiple formulas to attract the adequate Skill or Talent (Permanent Recruiting, Project or Interim Management).

By providing a Business Model based on a proactive search and on reactivity supported by a Sourcing Strategy using the latest Web 2.0 Technology for Active Candidates Sourcing and the latest Development & Networking techniques for Passive Candidates.
GLOBAL
By mastering all the sourcing Methods among them Executive Search, Advertised Selection, Proactive Search, Change management and International Sourcing (France, Europe, Middle-East and Northern Africa).

By having not only an approach by competences but also by Business Model Characteristics which allows to create safe bridges among Industry sectors to face the War of Talents.
QUANTITATIVE * QUALITATIVE (The 2 Q MODEL)
A quantitative approach which guarantees a large range of choices - a real choice offering the guarantees of a proven structured and standardized assessment of candidates. This means a result oriented organization with a capacity to speed-up to the market without lowering the quality.

A qualitative approach which guarantees results and loyalty in a Win-Win approach for our customers: CLIENTS and CANDIDATES throughout our high value-added accompaniment. Qualitative means more specialization to bring credibility, efficiency, control and synergy.
The balance between the 2 will be a guarantee of success.