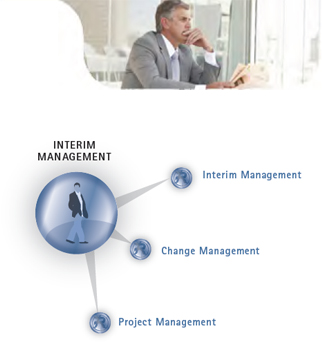 LIREA has the ambition to create a Community of Interim Managers with very tight bounds and to offer them a maximum of business recurrence in exchange of their expertise, know-how to stand aside by LIREA's Clients in downturns as well as in expansion periods.
HOW? LIREA provides high quality management solutions to companies undergoing periods of significant change and transition offering various formulas to integrate the Interim Manager depending on the assignment type, the risk policy, the budget and the skill set required to run projects, companies or specific roles with measurable defined goals and objectives. During the assignment, The Interim Manager brings his consulting skills, his international exposure, and his senior Operations experience aside with LIREA offering its capacity as trouble-shooter to smooth the difficulties along and get the full Client's satisfaction.
LIREA is mastering the 3 major types of interim management:
Change Management / Transitional Coaching
Through over skilled and proven successful experienced Change Managers, LIREA allows its Clients to overkill the crisis situation, to accelerate the change leadership or/and to minimize the risks. Our LIREA Change Managers will be able to deliver and make the difference in context of Downturns, Growths, Risk Management when our clients lack bench strength abroad, when Private Equity firms and Portfolio companies undergoing transition. Our field of interventions will be CEO, COO, CFO, CIO and Executive HR Managers.
Project Management
LIREA offers a variety of Experts for targeted projects in the field of Audit & Compliance, Finance (Reporting, controlling, Accounting, Treasury), Information technology (IT Audit/Financial & HR systems), Operations Management (Shared Services, Business Process Improvement, Discontinued Operations).
Be part of Our Community!
See what the current projects on demand are!
INTERIM MANAGEMENT
All Types
INTERIM MANAGEMENT
By Type