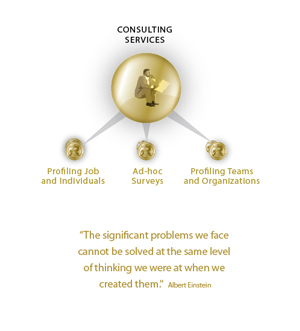 LIREA, thanks to his Business Partner Talent Q which provides tools and full training to our team, delivers Consulting Services to help our clients optimize their decision in different phases such as Change, Development, Recruiting and Potential:
Profiling Jobs & Individuals
LIREA supports clients in the recruitment of people at managers & professionals level to assess factors such as potential, derailment risks, team and board fit, intellectual capacity and operating style. Our services can be applied not only to hiring scenarios, but also to management team due diligence – assessing whole teams to support investment decisions, M&A scenarios or other 'capital events'.

Ad hoc Surveys
LIREA can also provide to our clients valuable tailored-made studies or surveys such as salary survey for a specific team with international benchmark, such as study for setting up of a new office in a country.

Profiling Teams and Organizations
LIREA is able to support organizations facing significant change such as restructuring or rapid expansion thanks to the identification and streaming of talent for the new organizational context, identification of potential and performance management. Our work adds objectivity to an often unwelcome and subjective task.